Non-Surgical Eyelift
Non-Surgical Eye Lift
For Dark Circles, Eye Bags and Sunken Eyes
Dark circles, eye bags or sunken eyes can be a premature sign of aging, or make an individual look unhealthy or tired. Healthy and fit individuals with any one of these conditions may look unwell or dragging, even when they are not.
Now there is a non-invasive, safe, and cost effective alternative to surgery for these problems, with the use of Dermal fillers to fill and smooth out the lower eyelid contour.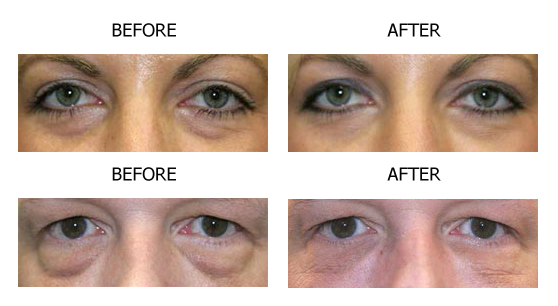 What Are Tear Troughs?

Tear troughs are semi-circular creases/depressions which start at the nose and run along the bottom of the lower eyelid just above the cheek bone. These depressions can produce the illusion of darkening around the eyes resulting in 'dark circles' or 'tired eyes'.

As we age, the eyelid above and cheek below begin to sag however the depression cannot sag with the rest of the facial skin due to its ligamentous attachment to the bone of the eye socket. This results in the depression deepening and the shadow and dark circle becoming more noticeable.


What is Tear Troughs Treatment?

When tear trough deformities are present, an injectable dermal filler such as Restylane, Perlane can be used to correct them. The goal is to fill the trough below the bag and lift the cheek to provide a more natural contour between the two, effectively masking the appearance of the bag.


The Procedure

The filler is injected with a very fine micro needle under the skin surface along the line of the hollow. An anaesthetic cream may be applied to the area for 30 minutes prior to the treatment although often no anaesthetic cream is required. The area is then gently massaged.


After the Procedure

The results with dermal fillers are instant. After the treatment the treated area may be slightly red and/or slightly swollen, however you can resume normal activities, drive yourself home or return to work immediately after the treatment.


How Long Will the Effect Last?

The results typically last 9 months to a year although the exact length of time will depend on the structure of your skin and other factors such as lifestyle, age and the degree of perfection demanded by the individual. Additional touch up treatments can be performed at any time after the initial treatment.


Are There Any Side Effects?

Although uncommon, possible adverse effects may include:
Injection-related reactions. The may be some mild redness in the treated area which usually resolves after a few hours. Swelling is also seen immediately after the treatment and lasts on average no more than 48 hours. Occasionally bruising can occur which if significant may last 5-7 days. During this time make-up can be applied.
Open 7 Days A Week — Se Habla Español

NYC Dermatology - Manhattan Dermatology - Skin Institute of New York - Skin Cancer Doctor- NYC Cosmetic Dermatology- Cosmetic Dermatological Surgery - New York City - Board Certified Dermatologist
Manhattan Office
Dr. Gary Rothfeld
NYC Dermatology - Board Certified Dermatologist - New York, NY
30 E. 60th St. Ste. 805
Manhattan, New York 10022
212.644.9494
1.800.BLEMISH